The Diamond Rock Affair, 1804
---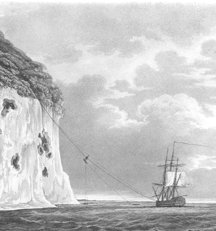 The Diamond Rock is an almost impregnable island, commanding the sea lanes to Fort Royal, on the French-controlled island of Martinique.
In January 1804, men of the British warship Centaur (74 guns), under Commodore Samuel Hood and Captain Murray Maxwell, erected a fortified position on the rock. For operational purposes, it was given the status of a man-of-war, called The Fort Diamond. The exploit was successful, and received favourable publicity back home.
A contemporary witness described the process as follows:
"Our enterprising officers and men succeeded in carrying up a line, and, ultimately, a stream cable of the Centaur, which was firmly moored by the side of the rock; and with one end of this cable clinched round a projecting rock, and the other on board the ship, a communication was established from one to the other. To the cable a traveller was affixed, similar in principle to that which children put on the string of a kit[e?]; to this a 24-pounder was attached, and, by means of tackles, conveyed to the top of the rock, another followed, and at last their carriages, shot, powder, with every article requisite for the support of a commander, two lieutenants and 120 men."
Young Benjamin Westcott writes about these events in his letter from Barbados in May 1804.
The principal weakness of the island was a lack of food and water, which had to be supplied by vessels foraging among the nearby islands. It was in one of these expeditions, 23rd June 1804, that Acting Lt. Benjamin Westcott's vessel was boarded and captured in a surprise attack, for which he was discharged, after Court Martial (the full story). The garrison, under Lieutenant (later Commander) James Wilkes Maurice, surrendered to the French on June 2nd, 1805 after an intensive bombardment by Admiral Villeneuve.
---
Sources:
(1) "Nelson's Navy: The Ships, Men and Organization 1793-1815", Brian Lavery, 1989
(2) "The Royal Navy", Sir William Laird Clowes, Vol. 5, 1900
(3) Illustration of Diamond Rock (detail), National Maritime Museum