Captain Westcott's Desk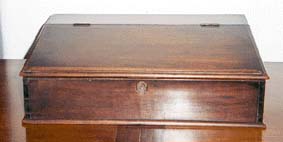 According to family tradition, this portable writing desk was used by «Captain Westcott»; whether George Blagdon Westcott or Benjamin Westcott IV has not been determined. Since it has no identifying marks, proof can only be circumstantial. What we know is that Westcott family letters and papers were found in one of the inside drawers, along with memorabilia from later generations.
The craftsmanship is of a good quality. The wood has acquired a rich, mellow tone over the years, and is well preserved. It measures 41 cm. wide, 28 cm. deep, and 9½ cm. high at the front rising to 12½ cm. in the rear section. Inside are two small drawers, at the rear.